Hi everyone! Thanks for stopping by today. I hope you're having a fabulous day.
In this month's edition of the Ellen Hutson In Touch Newsletter, I'm exploring the new Alcohol Lift Ink Pad from Ranger. This new ink pad is not like anything else on the market. It allows you to lift alcohol ink from a non-porous surface and then stamp with that ink on to a porous surface. Now if this all sounds a little confusing to you…don't worry. I'm going to break all of it down for you.
In February, I did a little post on making alcohol ink backgrounds. You can find that post here. You may find this helpful as an introduction to creating alcohol ink backgrounds. In this post, I'll show you alcohol ink backgrounds with both Copic Various Ink Refills and Ranger Alcohol Inks.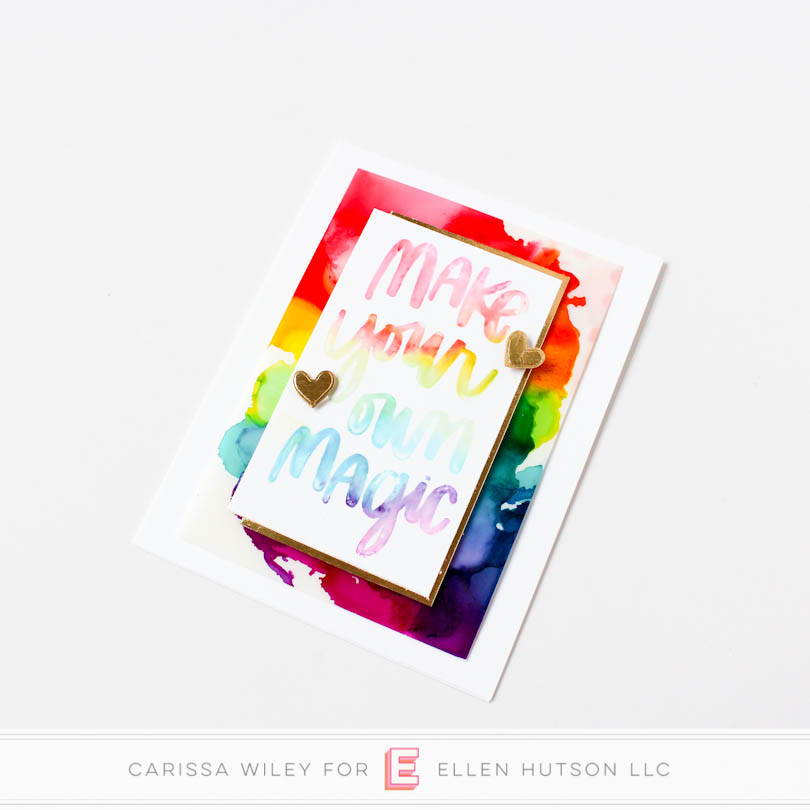 As I say in many of my posts, paper is key for achieving great results. You have to use the right paper for the job. This technique is no exception. In fact, it may be more important than ever. In order for this technique to work, you must first start with an alcohol ink background on a non-porous surface. Non-porous surfaces include Yupo paper, glass, metal, plastic, and porcelain tiles. Alcohol ink paper WILL NOT work for this technique because it is a porous surface. I'll be using the Yupo paper for my projects today.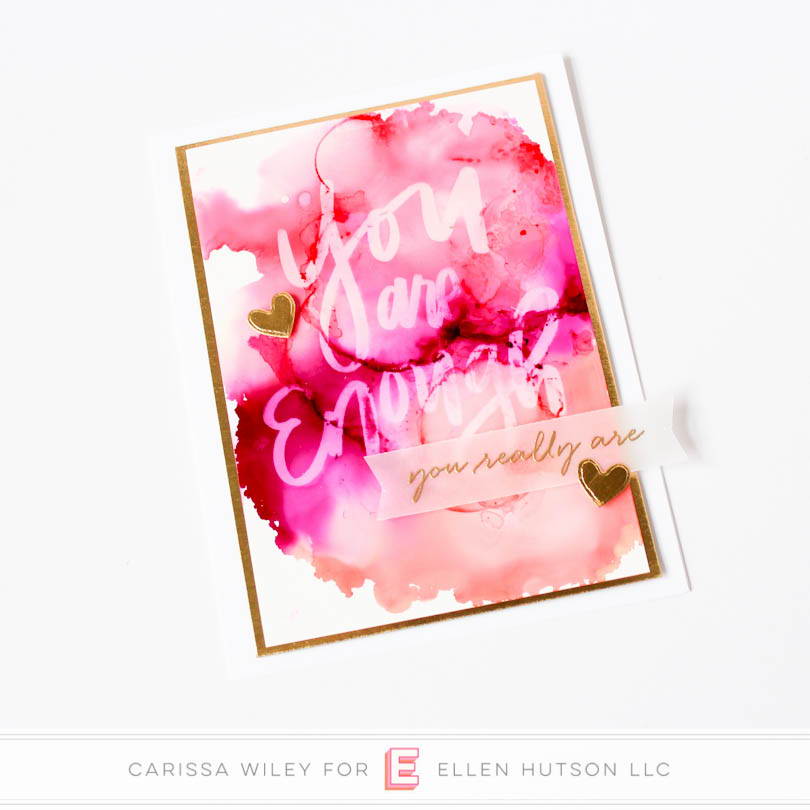 Once the background is created on a non-porous surface, you can use the Alcohol Lift Ink Pad to lift ink from that surface and then transfer that ink on to a porous surface, like regular card stock (Neenah Classic Crest Solar White Heavyweight Card Stock is my favorite). Other ides for porous surfaces include fabrics, vellum, Alcohol Ink card stock, watercolor paper, and wood.
I'm using some big, bold sentiments for my Alcohol Lift Ink technique today. I'm featuring the Crafty Ladies Say and Plant Ladies Say stamp sets. This technique also works with stamps that have fine lines and details. Once the ink is lifted from the alcohol ink background, you're left with a ghosting effect on your original Yupo paper background. It's such a fun look!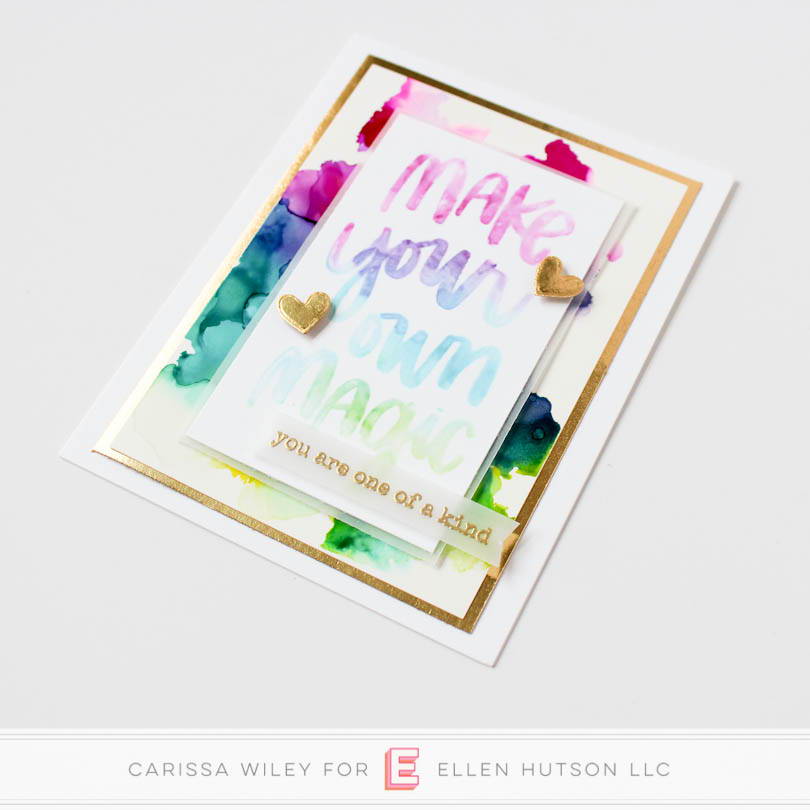 The alcohol ink can then be stamped on to regular card stock. This is kind of like a two-for-one technique. You really can create two projects from each background that you create.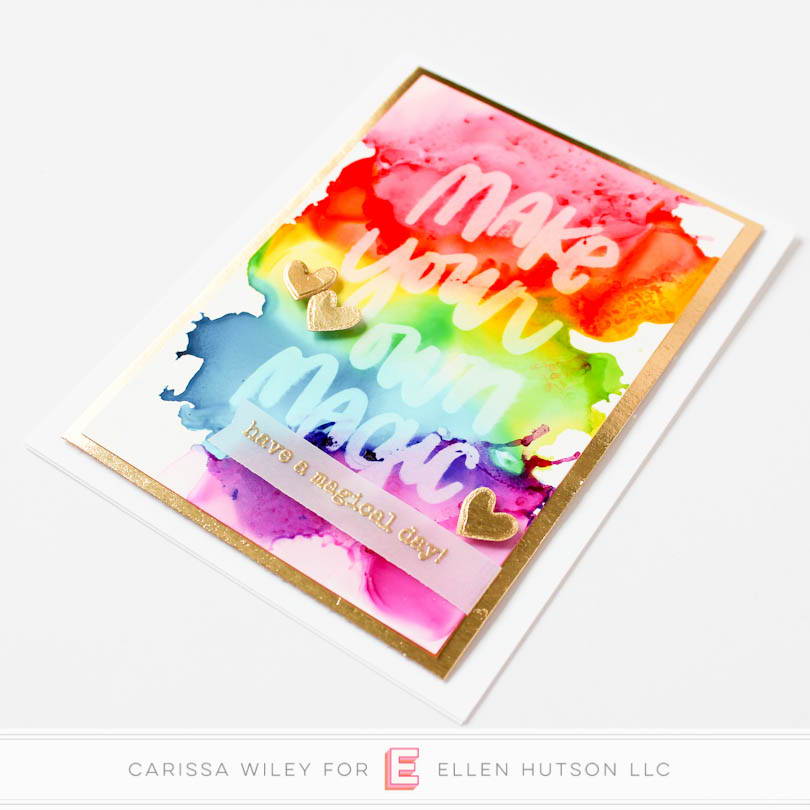 Here's a few things to keep in mind when you're using this Alcohol Lift Ink Pad.
Start with a clean stamp….and I mean squeaky clean. Use a stamp cleaner to remove all ink from your stamp before inking it up with the Alcohol Lift Ink Pad. This will prevent your clear ink pad from becoming contaminated by a dirty stamp. I like to use the Hero Arts Ultra Clean and a cloth to clean my stamps.
Use a stamp positioner, like the MISTI to allow you to double stamp. A double stamped image will lift more ink from the original background, leaving behind a lighter image.
Avoid the slip and slide. This ink is a very slick ink. You want to make sure you ink your stamp thoroughly, but avoid over inking. A stamp positioner will also help you stamp straight down on to your background, and avoid a slip sliding stamp which will result in a blurry image.
Don't be afraid to experiment and explore. You'll learn a lot about a technique by just playing. Sometimes, it's best to just play and see what you end up with…and then create a card from that. When I'm exploring something new, I don't start with a card idea in mind…I just play…and see where it takes me.  
I'm going to talk you through and walk you through all of this in today's video tutorial. You'll see how I created my backgrounds…and how I used the Alcohol Lift Ink Pad to lift ink from those backgrounds. Be sure to check it out!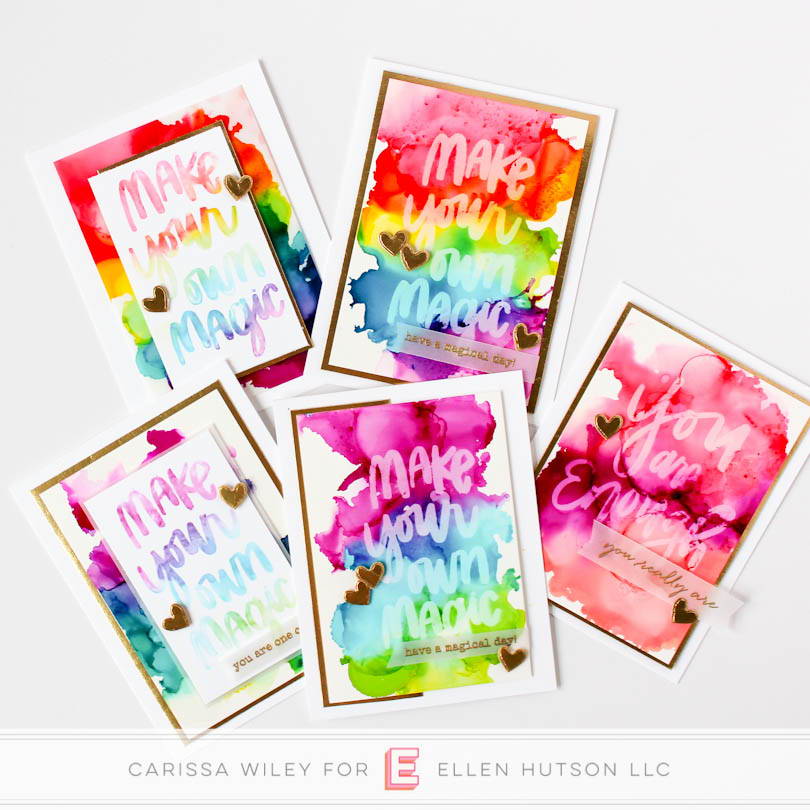 I've kept the card projects themselves very simple. This allows the beautiful, colorful, alcohol ink techniques to remain the focus of my cards. I love the vibrant colors and touch of gold.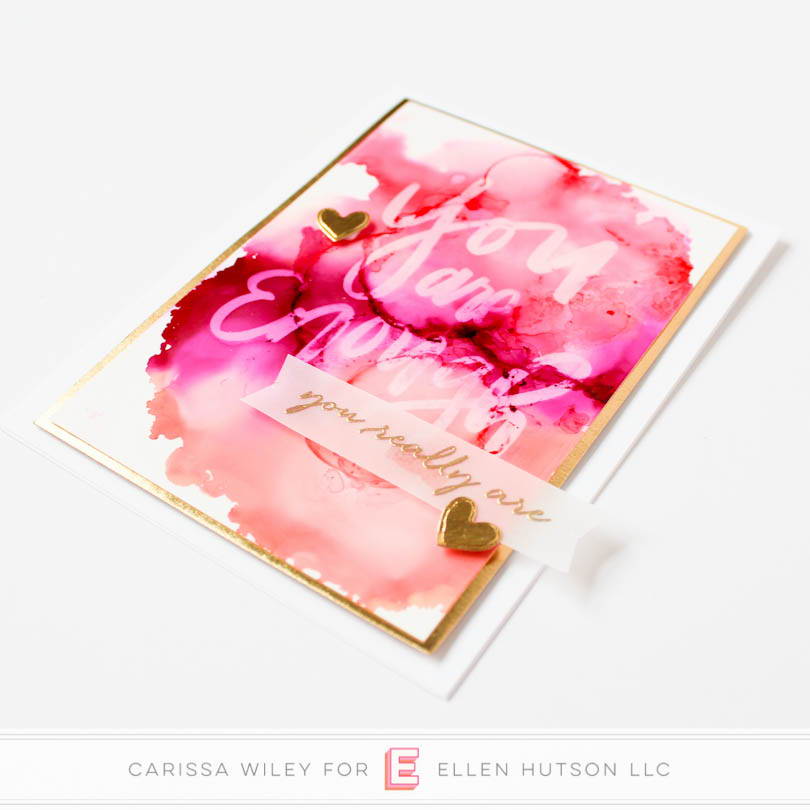 I think the You Are Enough card has to be my favorite though. This one was a result of playing and experimenting with different colors…and stepping out of my rainbow comfort zone. I used Flamingo, Wild Plum and Shell Pink alcohol inks to create this background. Those colors with a touch of gold….pure MAGIC.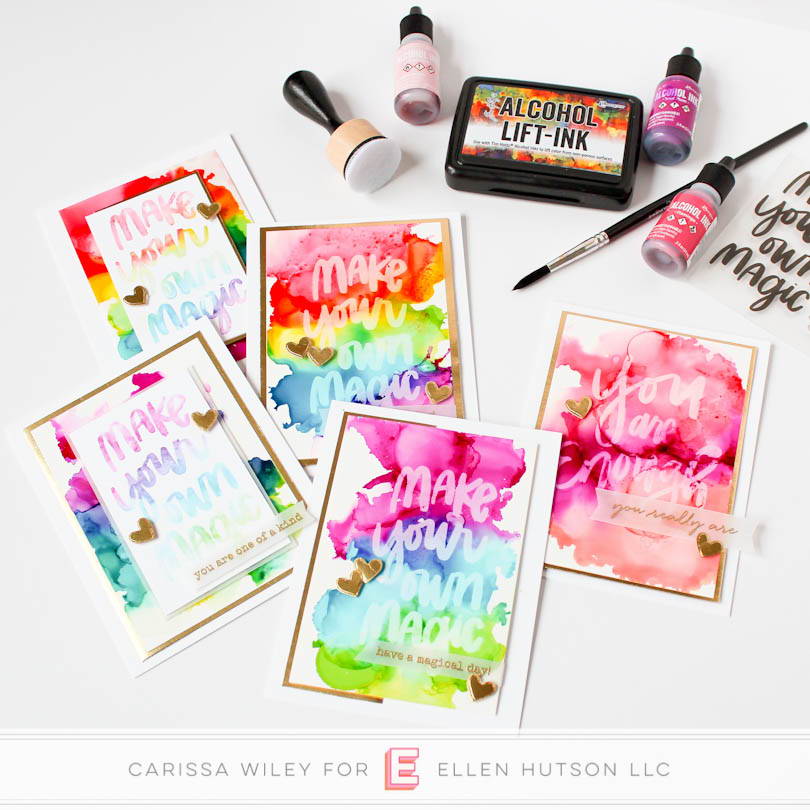 I hope you've enjoyed these projects and that you'll give this fun technique a whirl the next time you create. I had a blast getting all inky….with gloves on, of course.
Thanks for stopping by today. Until next time, I hope you have a fabulous day.