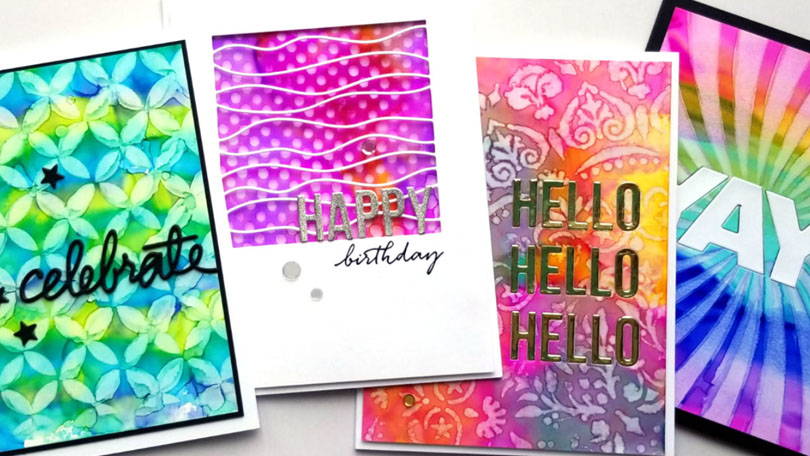 Hello! Ardyth here today with a new-to-me background technique that I used to make 4 really beautiful cards. I used stencils and blending solution to lift patterns off alcohol ink backgrounds that I had made.
Of course, to start, I had to make the backgrounds – I used Yupo paper and acetate, Alcohol Inks and Copic marker refills, and stencils from different companies to get some variation in colour and style.
You can make backgrounds in so many different ways – I applied inks to a felt applicator and direct to paper. Blending solution (or Copic Colorless Blender) helps make the inks move and blend and you never know how it will turn out – that's part of the fun!
I had never used acetate with Alcohol Inks before so I was excited to experiment and see how it worked. Spoiler alert: it worked GREAT!!
If you don't like inky fingers, I definitely recommend wearing gloves, but using an alcohol wipe cleaned up the worst of it very quickly. I also found that I preferred working over a paper surface rather than my craft mat – I just threw the paper in the recycling, but the craft mat needed some TLC with the alcohol wipes.
Once the backgrounds were completely dry, I put stencils over top and used a foam blender (not the felt applicator I used to make the backgrounds) to wipe away the inks through the stencil. The important thing here is not to have too much blending solution on the foam blender. Using the foam rather than the felt helps because it's more absorbent than the felt. If you get too much blending solution on your blender, just wipe it on some paper until it's not as saturated. If your blender is too wet, the solution can get under the stencil and your impression won't be as crisp.
I had some fun – I started with a turnabout stencil from Concord & 9th, using the markings on my work surface to line it up after each turn.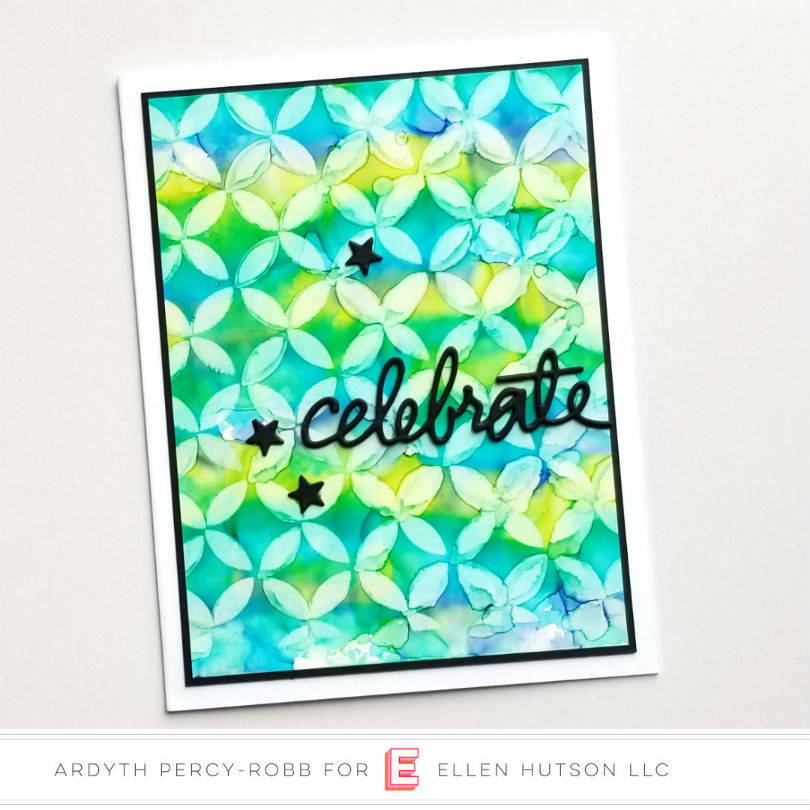 I used a very intricate, pretty stencil from Alexandra Renke – this time I pounced the foam blender rather than wiping, due to the small size of some of the openings and the delicate edges on the stencil pattern.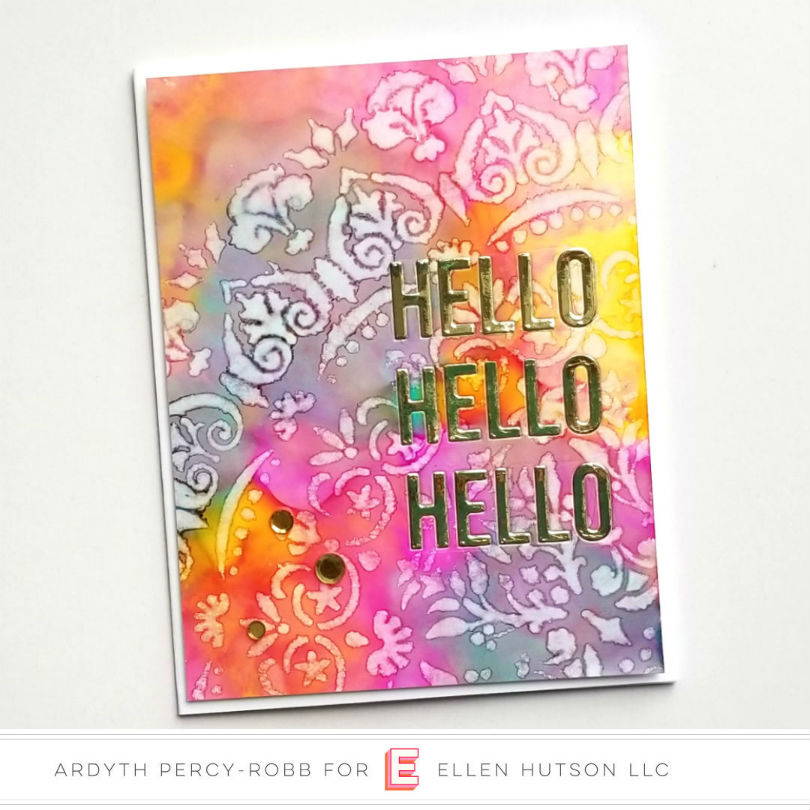 On my third card, I used a new stencil from Catherine Pooler Designs. And I learned a good lesson – you really want your foam blender to be clean when you start wiping off the coloured ink. And start with the lighter areas – a muddy blender can result in muddy areas (but it's also very forgiving – I just re-wiped with a clean blender and got a much better result!)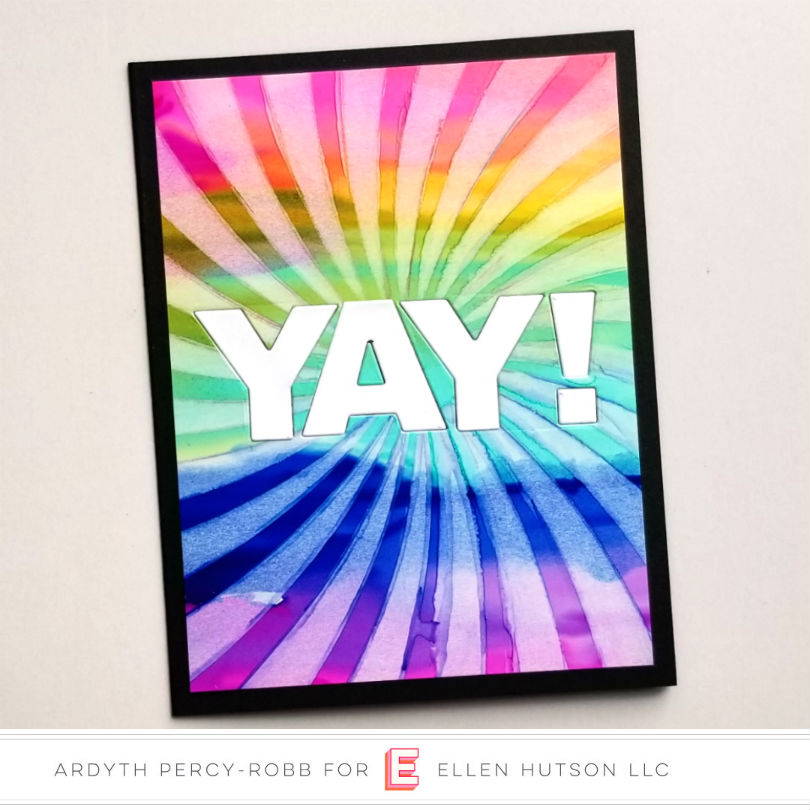 My crowning achievement was the acetate – I was so excited to see how easily it worked and how pretty it turned out. I used it behind a window and popped it up so that it almost has a faux-shaker look.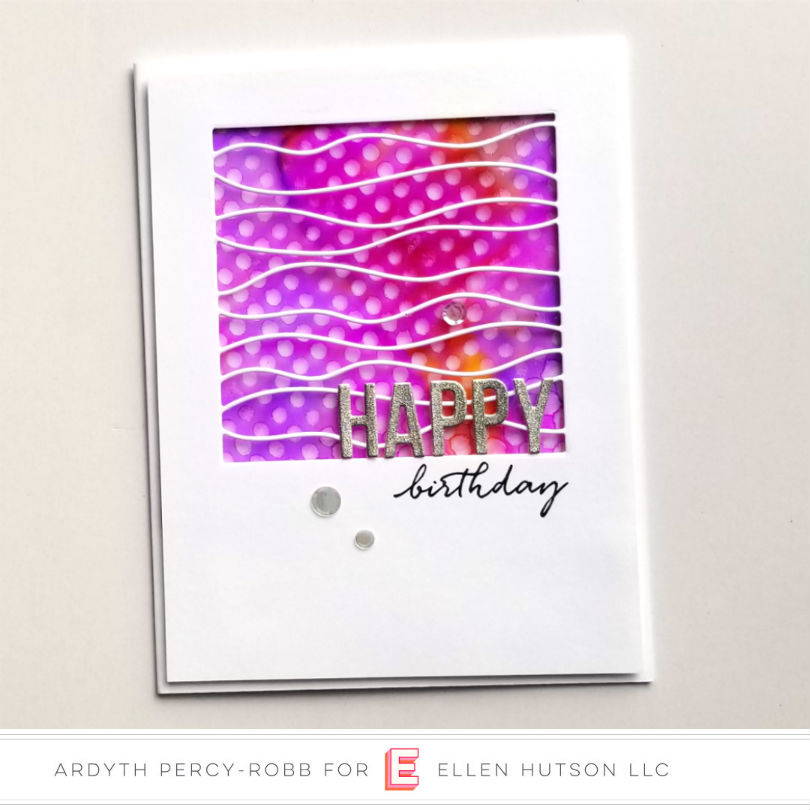 The backgrounds were so beautiful, I wanted them to have a starring role, so I kept my card assembly very simple – die cut sentiments in fairly neutral colours, with a few sequins.
Clean-up was not difficult, but it's important to get at it right away – I used alcohol wipes to clean off my stencils, and then washed them with soapy water so that the alcohol didn't sit on the plastic stencils.
See more in my video…
Thanks for stopping by today – I hope you'll give this technique a try – it's a lot of fun and the results are unique and beautiful, every time!