Join Julie Ebersole to create a charming holiday card with a DIY wreath made from just one pine branch stamp!
I wanted to frame my focal images with a wreath, but I didn't have a "wreath stamp" handy… Solution: DIY it with a small pine branch image! I used a circle die to create my "stamping guide", but you could use a cup or any other household object that is circular, with the diameter you need. The great thing about this technique is that you can also adjust the size of your wreath!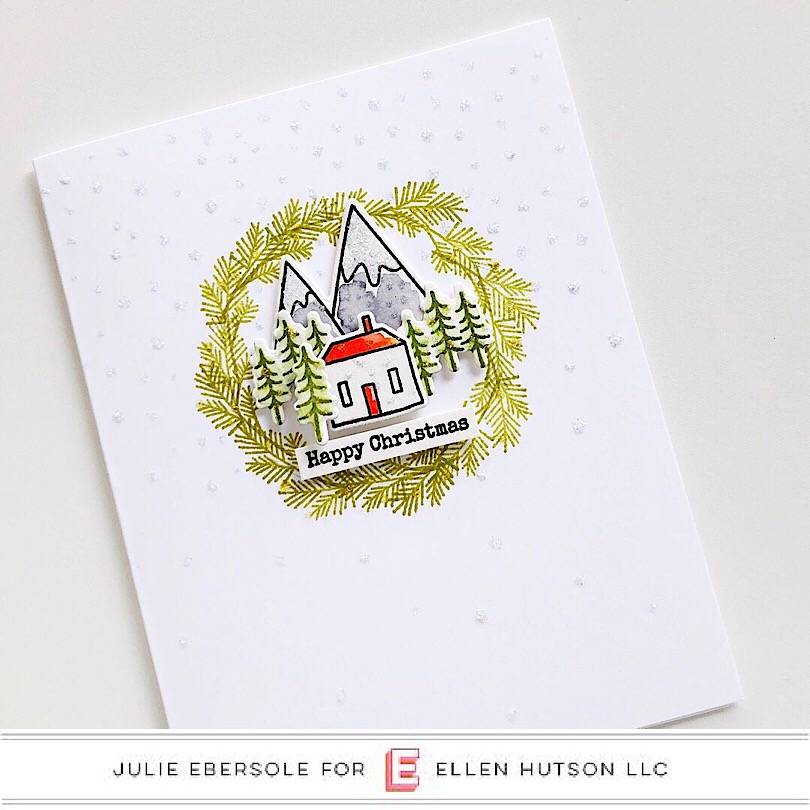 TIPS:
The Mini MISTI can help speed up production if you pre-plan the images you'll be using and mount them to the MISTI lid to maximize paper.
Zig Clean Color Real Brush Markers are water soluble and can be scribbled against a plastic palette, and then loaded onto a paintbrush or waterbrush for watercoloring.
Catherine Pooler Inks are water soluble inks that yield crisp impressions; ink and stamp onto watercolor paper, then use a wet paintbrush to gently bleed out the color for a watercolor effect.
When stamping a wreath, think in terms of a clock face: Using your traced circle as a guide, make initial impressions at 12:00, 6:00, 3:00 and 9:00. Then just fill in the gaps!
When creating dimension on a card, pre-plan where elements will be mounted, use thin 3D foam tape; double-up layers of tape to allow for varying heights. The end result will give you a wonderful, multi-dimensional look, but reduce the bulk for mailing.
Glitter Glues like Stickles are a no fuss/no muss way to create lots of sparkle on a card; just be sure to apply it last, and allow a little dry time.