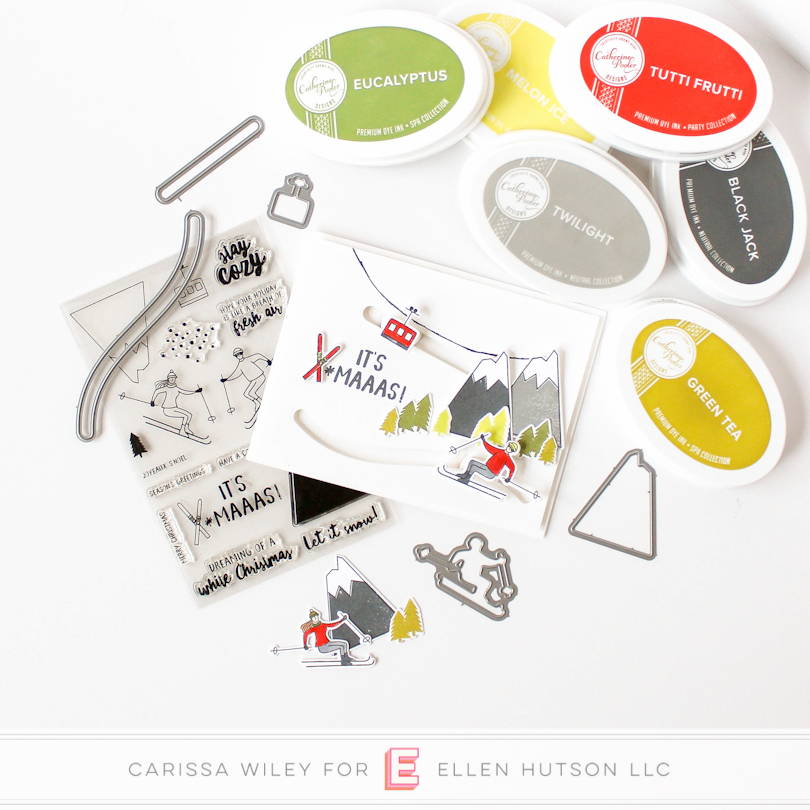 Hi everyone! It's Carissa Wiley with you here today for another edition of the Ellen Hutson In Touch Newsletter. Today, we're going to get a move on with a double slider card featuring the new Mountain Holiday stamps and dies and the Swing N Slide dies from the Essentials By Ellen Line.
I love the images in the new Mountain Holiday stamp set. It reminds me of family vacations when I was young. We often spent time skiing in beautiful Lake Tahoe over the holidays. And when I saw the little skiers and the gondola, I just knew I had to make them BOTH move!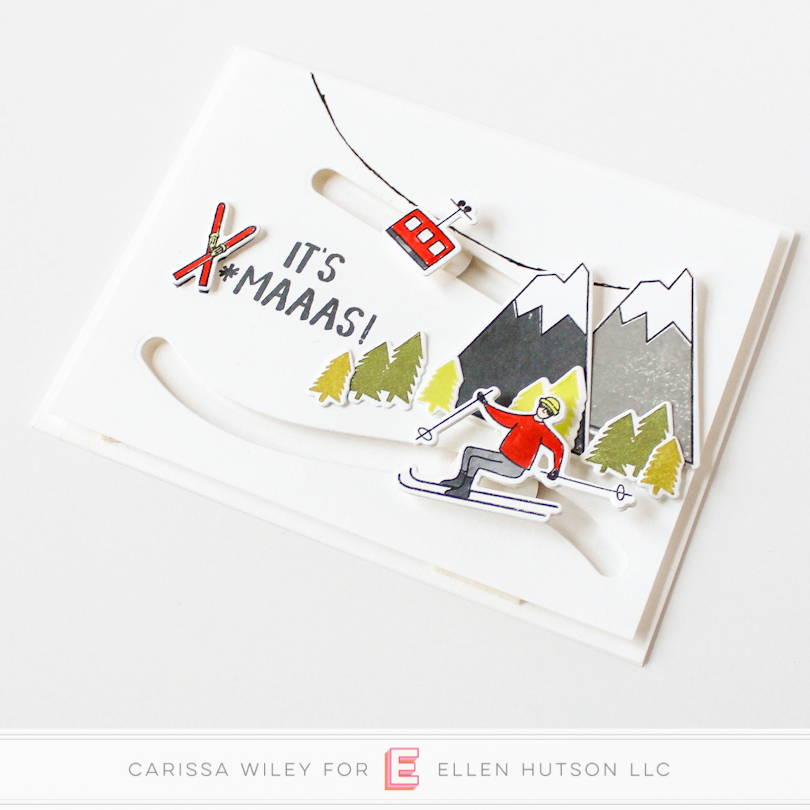 In today's video tutorial, I'll be walking you through the creation of this fun double slider card. Be sure to check it out. I'll be sharing tips and tricks for making your sliders really move.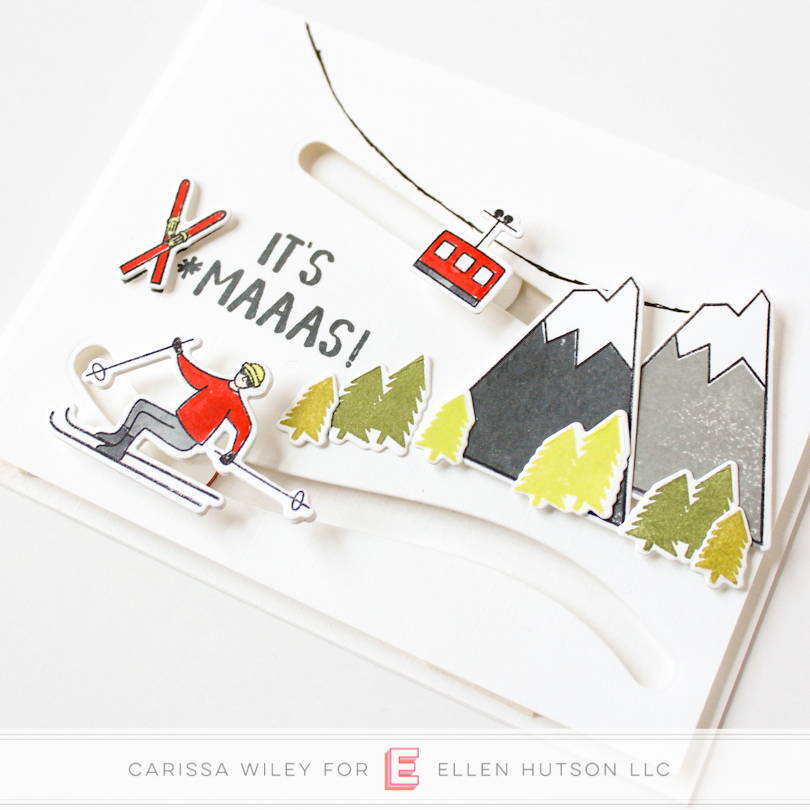 Here are some tips and tricks that make for a smooth slider…
Swing N Slide dies for the win! The Essentials By Ellen Swing N Slide dies make creating slider cards a breeze. There are lots of fun shapes included in this set. You can create your own slider channel using a trimmer, but using a die designed for this purpose makes creating these cards a breeze!
Cover your coin. I used a small circle over the top of the coins to disguise them. Since these die cut elements are on the smaller side, covering the coin is a great way to make it less conspicuous. Be sure the circle you're covering your coin with matches your base card for best results.
Use new money. While I wanted to save my shiny coins because….well, they're shiny…I found that older money doesn't make for the best sliders. Why? The older coins seem to be slightly thicker than newer coins….which increases the friction, and makes it harder for them to move. While the difference seems small, there was a noticeable difference in how they moved.
Layers upon layers. Through trial and error, I found that I had the best results when I used two layers of foam adhesive behind my base piece. It allowed enough room for the coins to slide back and forth freely. You'll need at least one extra layer of foam between your coin and die cut sliding piece. And if you add decorative elements with foam on the front of your card…you'll need an additional layer. I ended up with four layers of foam between my coin and die cut slider elements.  
Try using a powder tool along the edge of your track and on the sides of your foam adhesive to remove any sticky on the sides. This will help your sliders to move more freely.
Double up your die cut to make your moving element sturdier. I cut an extra plain white die cut of my little skier man and layered it behind the stamped and colored version. This adds some heft and stability to a die cut that's going to be played with A LOT!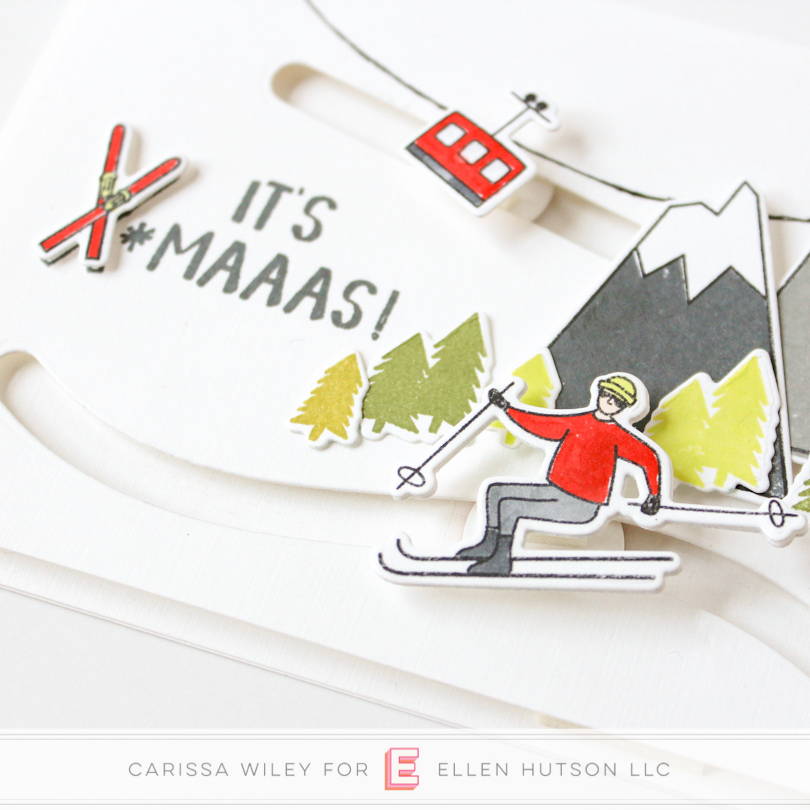 All of my images were colored with Copic makers. But, I nixed the shading to save some time. I think we often forget that we can just add flat color to images…and they still look great! I'll have those Copic colors listed below. They were chosen to coordinate with the ink pad colors I chose to use for all of my September Essentials By Ellen Projects.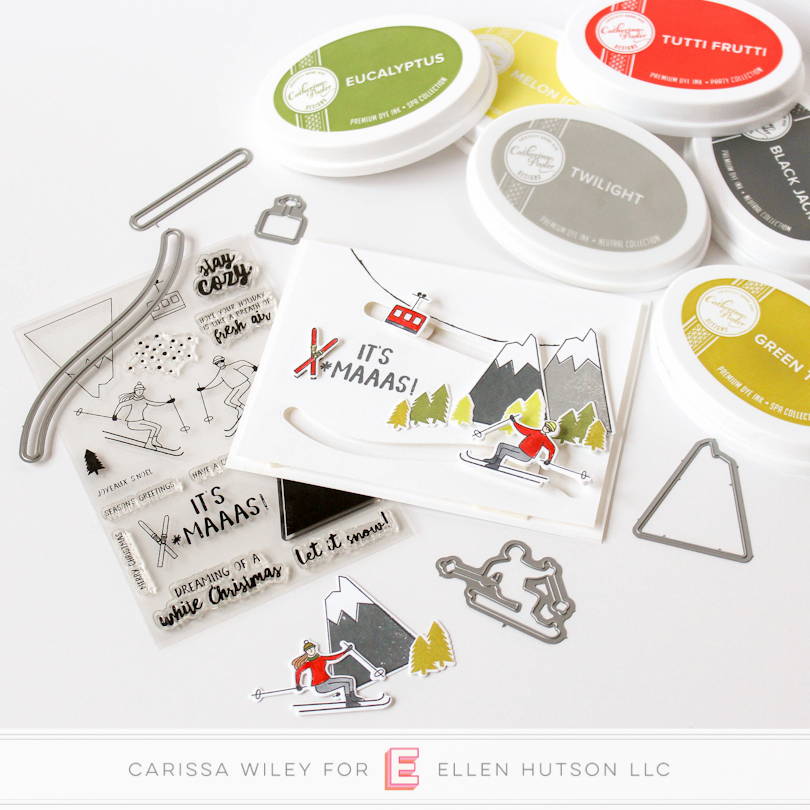 I love handmade cards, and when I can make them interactive, it just makes me giddy. It's no wonder I can't stop playing with this card. And I can't wait to see the look on my brother's face when he gets this card at Christmas time! It's got wow factor times 2!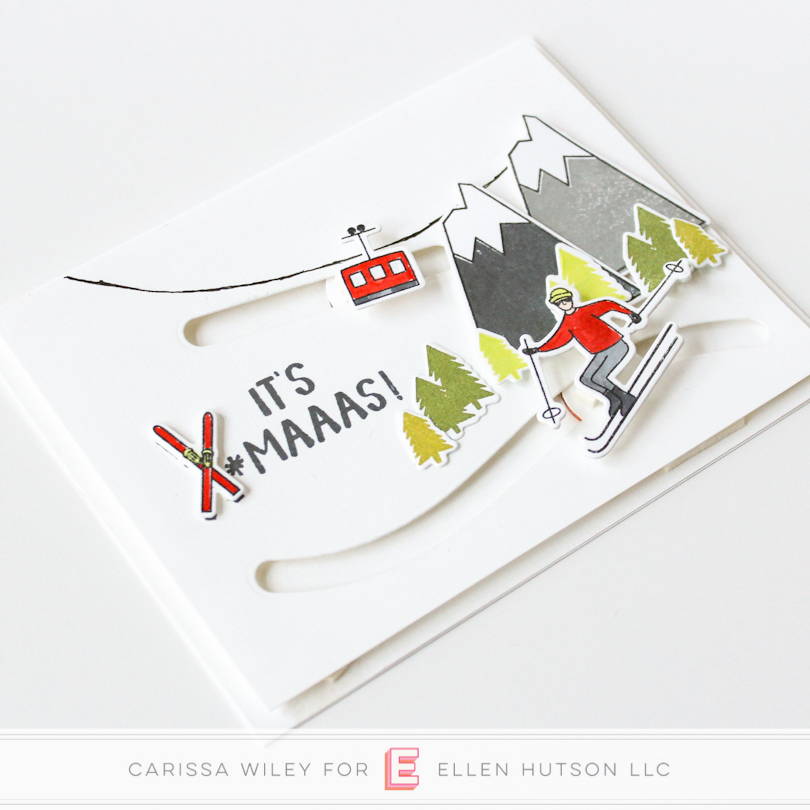 Thanks for stopping by today. I hope you've enjoyed this card idea and I hope you find these tips helpful the next time you create a slider card! Until next time, I hope you have a fabulous day!
XOXO
Carissa