Create sparkly die cut cupcakes with Julie using Gansai Tambi watercolors, Tonic Glimmer Paste and HAI sequins!
There is no quicker, easier way to make a card than to use a set with some terrific solid shapes, like this UWF set called Sweet Sprinkles by Concord & 9th for Ellen Hutson, LLC!  
I'm topping off these adorable cupcakes with some custom Glimmer Paste "Frosting"!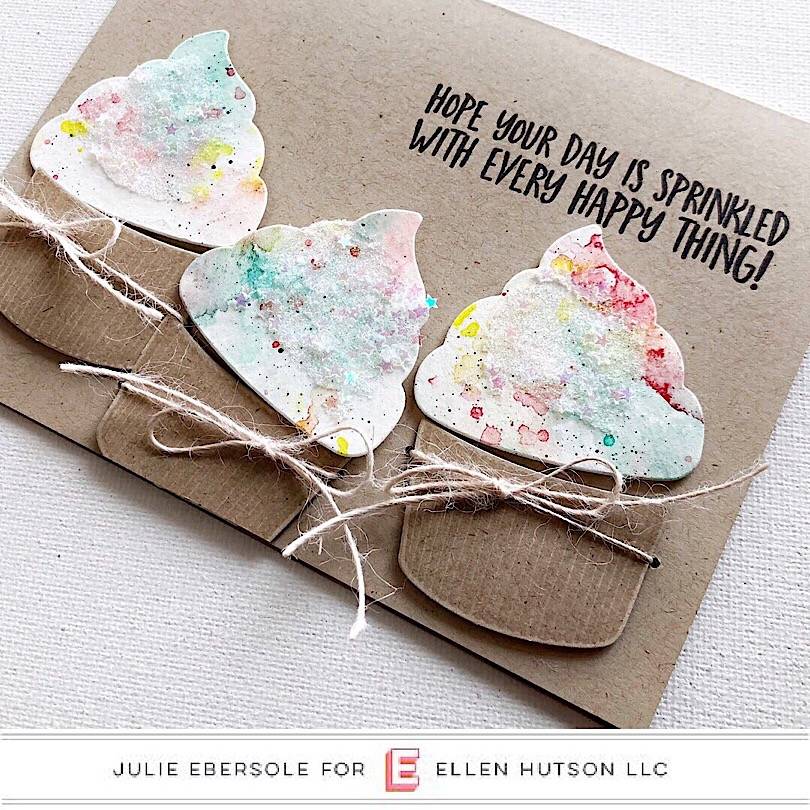 TIPS:
Make sure your initial watercolor work is fully dry before adding black paint spatters; notice in the video how Julie uses an acrylic block and a paint brush to achieve a fine and controlled spatter effect.
Warped watercolor paper? Sandwich it between a folded sheet of typing paper and run it through your die cutting machine a few times to "press" it flat—no waiting overnight!
Versamark can not only be used for heat embossing, but also "watermarking"; use it over any color card stock to get impressions a shade deeper/darker than the paper color.
Glimmer Paste sets up fairly quickly; have a bowl of water to toss your tools into for much easier clean up later on.
And you can add the UWF Sweet Sprinkles (and other UWF sets) to your stash for 30% off this week with the code UWF30!!! Check out the whole collection HERE!